Finding space to store all those Holiday decorations can put anyone in a Bah Humbug state of mind, so let us help you with a few hoilday hacks that are worth a try!
Storing your holiday decorations properly can help keep your space clean. To help you get it done, we've compiled a few clever storage solutions to declutter after the Holidays. From keeping wreaths in good condition with a wreath container, installing overhead shelves in your garage or basement. To storing wrapping paper in garment bags, there are tons of ways to organize and store your holiday decor!
---
Holiday Wreaths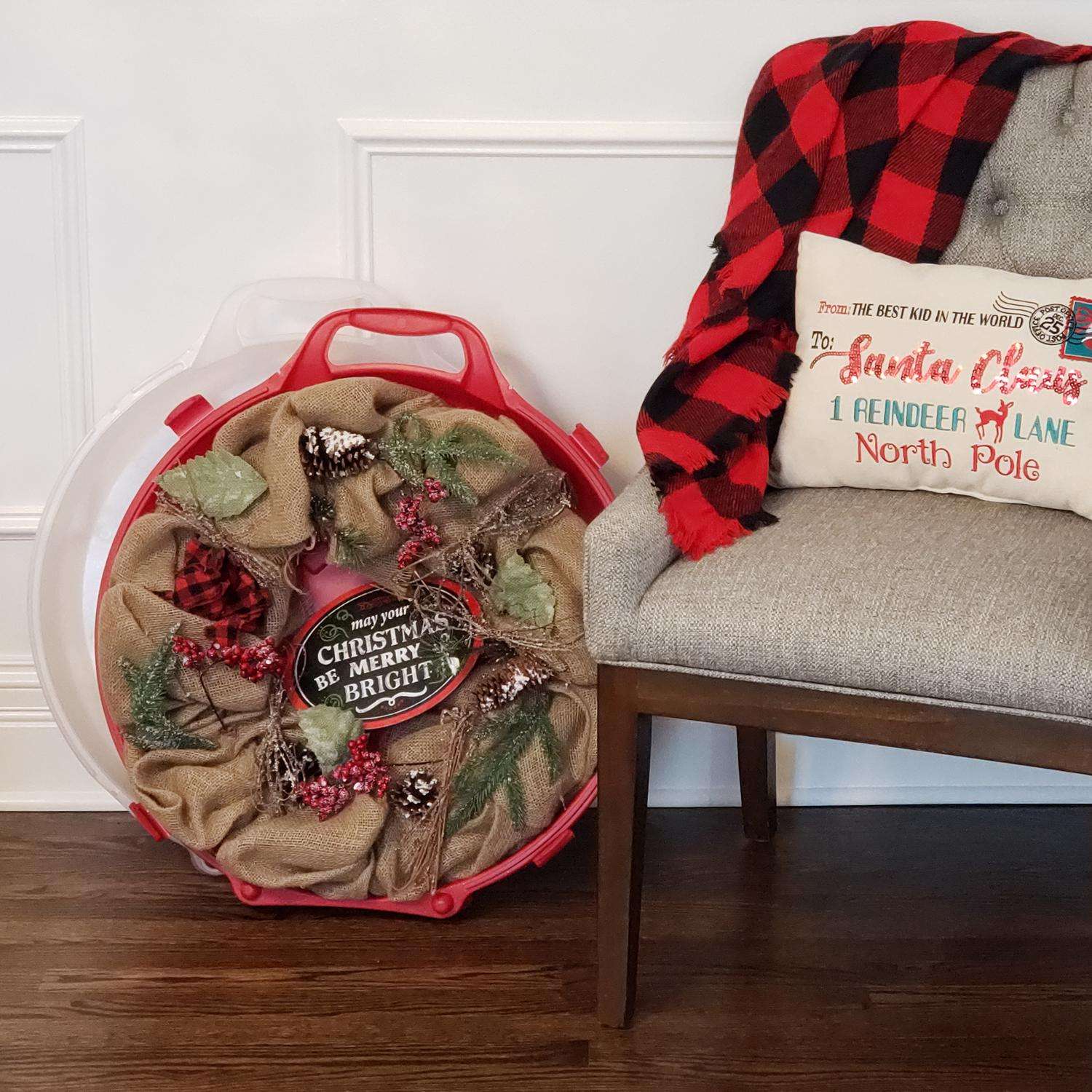 We welcome the Holidays by hanging a wreath on the front door. Firstly it's easy to understand that a wreath can often lose its original glamour not from its time in use, but from its time in storage. Secondly, utilizing a wreath container can not only help keep your Holiday wreaths looking fantastic just as the first day you bought them, but will also protects those wreaths from collecting dust and bugs! Above all, the best part about using these types of containers are that they simple to store in the closet and will take up less room overall!
---
Garment Bags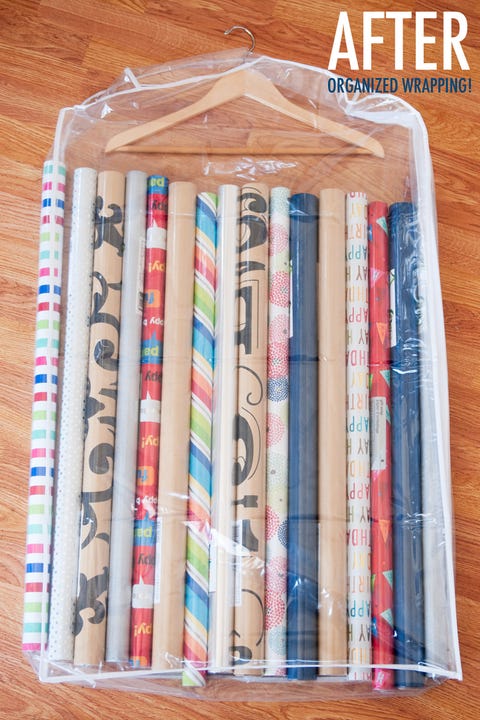 Next on our list is clear garment bags! In other words, you can use Garment Bags to store your wrapping paper rolls. Let me tell you, this little hack has helped alot especially if you don't have any more room for totes! For instance, Take your different-sized rolls of wrapping paper, place them in the garment bag, close the zipper and hang your wrapping paper up in your spare closet. There should be no arguements on how simple this is?!
In addition, , no more wrestling with storage bins that seem to lose more and more space every year. More importantly, don't even get me started on the wrapping paper rolls that are always slightly too long to fit. Besides, we already have so many storage bins stacked up in our basements, attics and garages—we don't need to add another to the list!

---
Wrapping your Christmas Tree
Wrap your Christmas Tree in heavy duty Stretch Wrap and an extra set of helping hands. Do NOT use kitchen stretch wrap. The heavy duty wrap that is suggested is typically used for moving and storage. Kitchen wrap will NOT work.
Having one person hold one end of the wrap, while the other person walks around with the wrap makes it quite a bit easier. After the first layer, the second person can help guide the wrap. Or you could even switch off on either side of the tree. You will quickly find what works best for you. Make sure to start at either the top and bottom.
Remember to wrap as tightly as you can so that everything will stay in place. You will want to wrap several layers so that it will be nice and secure.
---
Overhead Storage
There are many ways to maximize your garage. You should know that your garage can be an extra place for you to save some of your stuffs. You just need to have a well-organized garage. Most garage spaces contain a lot of unused space along the top edges of the walls. This is a great location to build some easy storage shelves that will greatly increase the amount of square footage that you can use for storage.
---
Gift Boxes
Another fun little hack is to use a holiday-themed gift box to store all your holiday cards. This is an nifty way to keep all of those greeting cards together and organized for years to come. Simply store all of your greeting cards, stamps, pictures and envelopes in one spot!
---
Don't wait until the last minute: Start packing away your holiday decorations as soon as the holiday is over. This will help you stay organized and avoid any last-minute scrambling. Get rid of anything you don't need: Before you start packing everything away, go through your holiday decorations and get rid of anything you don't need or want anymore. This will save you time and space in the long run.
Here at Budget Self Storage, we will love to assit your storage needs.
https://www.abudgetselfstorage.com/wp-content/uploads/2022/11/Holiday-Hacks.png
788
940
Stacie Smith
https://www.abudgetselfstorage.com/wp-content/uploads/2015/03/budget-self-storage.png
Stacie Smith
2022-12-06 13:59:00
2023-02-22 12:34:29
Holiday Storage Tips